Ultra Mag Series | Batch Control Systems (Electric)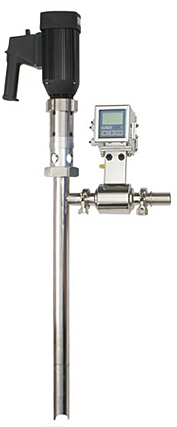 Ultra Mag Series
Standard's Sanitary Batch Control System engineered for bulk, precision dosing and filling operations from drums, Tote® tanks and kettles – virtually hands-free. This system utilizes a non-invasive Full Bore Magmeter for flow / volume measurement. Simply dial in desired volume, press enter, and the Sanitary Batch Control delivers a preset volume of material within .05% accuracy. The system is an excellent solution for conductive food products, pharmaceuticals, and cosmetic materials.
Common Applications
Lotions
Shampoo
Chocolate
Pie Fillings
Juice Concentrates
Brine
Pharmaceuticals
Tomato Paste
Features
3A Certification
Large Graphic Display
Tri-clamp® Fittings
Low Shear Design
Non-Invasive Measurement
Easy To Clean Design
Multi-language Display
Standard Or Metric Units Of Measure
Measures Volume
Technical Data
Design:
Progressive Cavity / Positive Displacement

Immersion Length:
39" (1000 mm)

Wetted Components:
316SS & PTFE

Pump Finish:
32 Ra
Motor Drive:
TEFC (IP54), Variable Speed
Discharge Size:
1.5" (38 mm)
Viscosity Range:
P/N: 8300 (110v), 8301 (220v)
P/N: 8313 (110v), 8314 (220v)
1-10,000 cps (mPAS)
10,000-25,000 cps (mPAS)

Max. Discharge Pressure:
P/N:8300 (110v), 8301 (220v)
P/N: 8313 (110v), 8314 (220v)
43 psi (3 bar) based on water
87 psi (6 bar) based on water

Max. Flow Rate:
P/N: 8300 (110v), 8301 (220v)
P/N: 8313 (110v), 8314 (220v)
10 GPM (30,2 LPM) based on water
3 GPM (11,3 LPM) based on water

Duty Cycle:
Intermittent (30 Min. Intervals)
System Weight:
54 lbs (24 Kg)
Max. Temperature:
212° F (100° C)
Max. Solid Size:
.25" (6 mm)

Mechanical Pump Seal:
SiC / Viton® / SiC

Metering Principle:
Full Bore Mag Flow Meter
Check Valve:
316 Stainless Steel

System Accuracy:
+/– 0.2% of reading (+/–0.5% Repeatability)
Conductivity:
System requires 5 micro-semans (µS/cm) of conductivity
Pump and meter is constructed with FDA compliant materials; however, the system does not have FDA certification.
®Viton is a registered trademark of DuPont Dow Elastomers.
Model Number
Package P/N
Motor/ Voltage
Wetted Parts
Max Viscosity CPS (mPAS)
Immersion Legnth
Ultra Mag Batch Control System
8300
TEFC / 110-120V
SS316, Teflon, SiC
10,000
39" (1000 mm)
8301
TEFC / 220-240V
SS316, Teflon, SiC
10,000
39" (1000 mm)
8313
TEFC / 110-120V
SS316, Teflon, SiC
25,000
44" (1120 mm)
8314
TEFC / 220-240V
SS316, Teflon, SiC
25,000
44" (1120 mm)
8300BL
TEFC / 110-120V
SS316, Teflon, SiC
10,000
39" (1000 mm)
8301BL
TEFC / 220-240V
SS316, Teflon, SiC
10,000
39" (1000 mm)
8313BL
TEFC / 110-120V
SS316, Teflon, SiC
25,000
44" (1120 mm)
8314BL
TEFC / 220-240V
SS316, Teflon, SiC
25,000
44" (1120 mm)
Dimension