SP-8900 Sanitary Pump Series

Hygienic Design Enables Operators To Disassemble, Clean and Sanitize
Standard's SP-8900 Series Sanitary Centrifugal Pumps offer the ideal solution for transferring Dairy Products, Pharmaceuticals, Juices, Concentrates, Beer, Wine, and Cosmetic Fragrances from barrels, kettles and Tote Tanks®. The SP-8900 Series pumps are 3A certified and incorporate a hygienic design that enables operators quickly to disassemble and sanitize. Designed for applications where maximum discharge pressure rate is required.
Common Applications
Juices
Concentrates
Personal Care Products
Pharmaceuticalss
Beer
Wine
Cosmetic Fragrances
Pump Component Features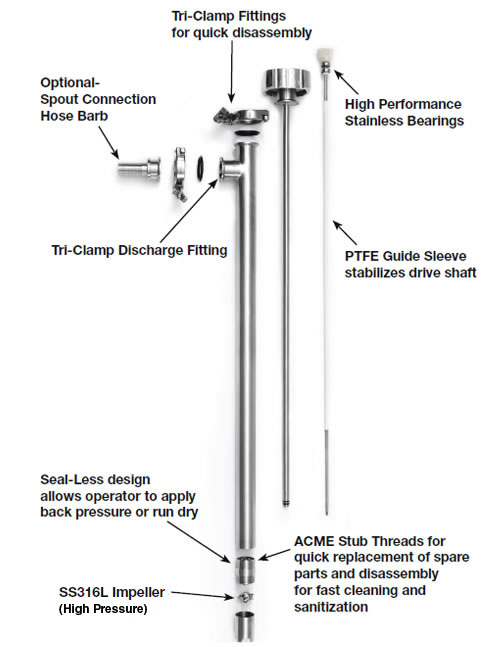 Features
3A Certified (TPV)
Hygienic Design
Easy to Clean
Tri-Clamp Fittings
Light Weight & Portable
Variable Speed Electric & Air Motors
Runs Dry
Technical Data
Immersion Length:

39" (1000 mm) Drums
47" (1200 mm) Totes, Tanks & Kettles
Wetted Components:
SS316L, PTFE & Buna
Discharge Size:
1.5" (38 mm) Tri-Clamp Connection
Max. Viscosity:
1,000 cps (mPAS)*
Max. Discharge Pressure:
40 psi (2,8 bar)

Max. Flow Rate:
35 GPM (132 LPM)
Pump Weight:
11 lbs (5 kg)
Max. Temperature:
175° F (80° C)
Pump is constructed with FDA compliant materials; however,
the system does not have FDA certification.
Pump is intended for intermittent use when operating at maximum viscosity.
Flow Curves