Batch Control Systems | High Viscosity (Air)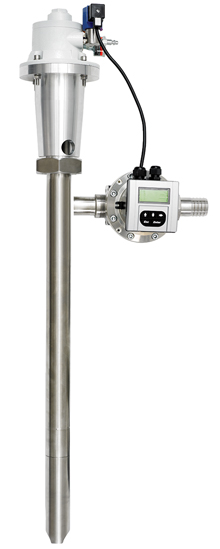 STANDARD's Batch Control System (BCS) is engineered for precision dosing and filling operations containing viscous materials. The air systems are ideal for high frequency, continuous duty applications. The Batch Control System is constructed with robust materials and a choice of motor drives, providing versatility and safety for the most challenging applications. Simply dial in desired volume, press ENTER, and the BCS delivers a preset volume of material virtually hands-free.
Common Applications
Polymers
Oils
Varnishes (Non-Flammable)
Paints
Resins
Petroleum Products
Features
Oval Gear Design
Measures: Gallons, Liters, Cubic Meters
Re-settable Totalizer
User Friendly "In Field" Calibration
7 Pre-Set Batches
Remote Start Capabilities
Relay Output Signal
Technical Data
Wetted Parts:
316SS / PPS / Aluminum / PTFE
Motor Drive:
TEFC (IP54) (110–120v / 220–240v)
Discharge Fitting
1.5" (38 mm) Hose Barb
Mechanical Seal
SiC/Viton®/SiC
Pumping Principle
Progressive Cavity – Positive Displacment
Max. Discharge Pressure
87 psi (6 bar)
Flow Range
2.6 GPM (9,8 LPM) –
12 GPM (45 LPM)
based on water
System Weight
44 lbs (20 kg)
Immersion Length
39" (1000 mm) or 47" (1200 mm)
Maximum Viscosity
25,000 cps (mPas)

Measuring Principle
Oval Gear
Accuracy
+/- 0.63 % of Full Scale
+/- 1% of Reading
Maximum Temperature
176º F (80º C)
®Viton is a registered trademark of DuPont Dow Elastomers.
Model Numbers
Part Number
Motor / Meter
Voltage
Wetted Parts
Max Viscosity
CPS (mPas)
Immersion
Length
7630
2 HP (1,5 KW) Air/110-120V
SS316, Teflon, Aluminum, SiC, PPS

10,000 cps (mPas)
39" (1000 mm)
7631
2 HP (1,5 KW) Air / 220-240V
SS316, Teflon, Aluminum, SiC, PPS
10,000 cps (mPas)
39" (1000 mm)
7640
2 HP (1,5 KW) Air/110-120V
SS316, Teflon, Aluminum, SiC, PPS
10,000 cps (mPas)
47" (1200 mm)
7641
2 HP (1,5 KW) Air / 220-240V
SS316, Teflon, Aluminum, SiC, PPS
10,000 cps (mPas)
47" (1200 mm)
7634
2 HP (1,5 KW) Air/110-120V
SS316, Teflon, Aluminum, SiC, PPS
25,000 cps (mPas)
39" (1000 mm)
7635
2 HP (1,5 KW) Air / 220-240V
SS316, Teflon, Aluminum, SiC, PPS
25,000 cps (mPas)
39" (1000 mm)
7644
2 HP (1,5 KW) Air/110-120V
SS316, Teflon, Aluminum, SiC, PPS
25,000 cps (mPas)
47" (1200 mm)
7645
2 HP (1,5 KW) Air / 220-240V
SS316, Teflon, Aluminum, SiC, PPS
25,000 cps (mPas)
47" (1200 mm)
Dimensions